The company known as Artisan guild is releasing a special mini, and bust, to help those who needs it after the volcano eruption.
Quote from their email:
is not your typical 3D printable figurine campaign. It is a fundraiser to help the evacuees whose home was destroyed by the volcano.
100% of the profits will go to the Town Hall of Los Llanos de Aridane.
And as a thank you for your help, you will get the 3D printable of the Fire Giant Epic Boss Hefesto , made just for this occasion, and his exclusive bust for this campaign.
As we are mostly know being for sculpting and delivering 3d Printable characters, we decided that MyMiniFactory would be our best place to have more friends join our cause.
During this tragic event, everybody is cooperating and a lot of support is coming also from outside thanks even to streamers and youtubers; it's amazing to see what people can do together.
By participating in this campaign, you are also doing your bit, and we can't thank you enough for your help.
https://www.myminifactory.com/crowdfunding/i-stand-with-la-palma-420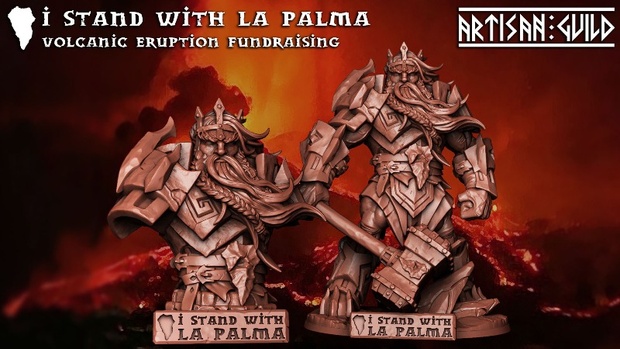 The bust is exclusive to this crowdfunding effort, but the full statue may show up for regular sale later.
3 pledge levels; $15, $50 and $100, all of which gets you the exact same files. Back for what you can give, not what the files may be worth to you.
This only runs for a week.
My connection with Artisan guild is as a Patreon member, and as a $50 pledger in this crowdfunding. Nothing else.